KNIFE SHARPENING & AXE SHARPENING
Timber Knives is proud to offer Knife Sharpening and Axe Sharpening services at our store in Heber City, Utah.
If you bring your knives or axes in to the store, we can generally have them sharpened and ready for you to pick up within 24 hours, Tuesday-Saturday.
We can sharpen by wheel or by hand, as appropriate, and we always take the utmost care with your knife or axe.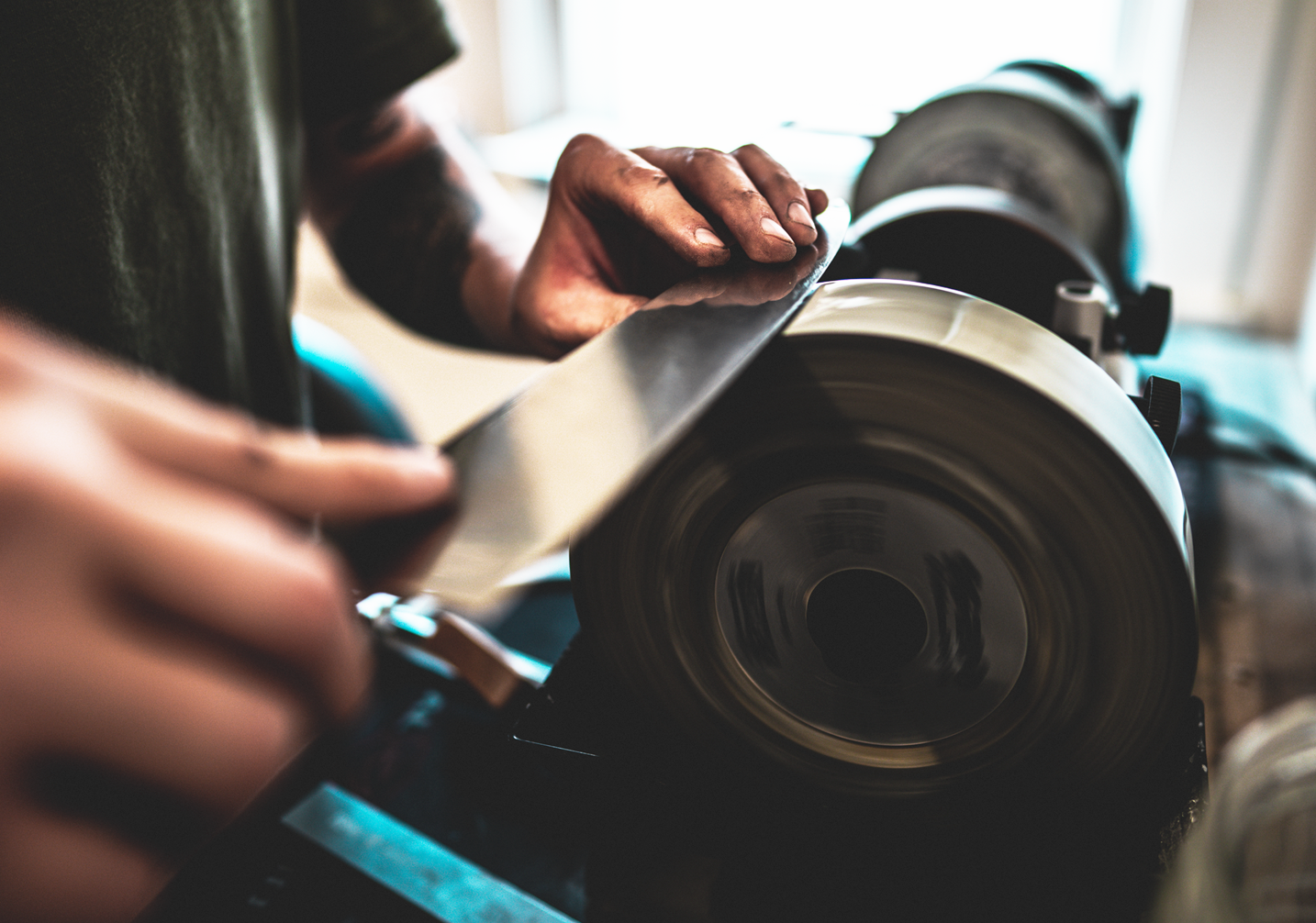 Pricing
Knife Sharpening: $8 per Knife
Axe Sharpening: $15 per Axe
Tip and chip repair: $5 per Item
To have your knives/axes sharpened, simply drop them off at the store in Heber City. Call us with any questions.
The importance of a sharp knife
Whether it's a knife you use in the kitchen, or your favorite camping, fishing, or hunting knife, having a sharp knife makes all the difference. A dull knife makes cutting 10X harder and it can be really dangerous to use — much more dangerous than a sharp knife.
In the kitchen, dull knives can lead to injuries, from cuts to carpal tunnel and tendonitis (imagine slicing through the skin of a hundred tomatoes with a dull knife). Not only is it pleasant to be able to slice and dice with ease, it is also safer. Sharp knives are more dependable and there's less of a chance of injuring yourself in an attempt to push a dull edge through something. A sharp knife in the kitchen makes your cutting tasks easier and the results more accurate.
In the outdoors, a sharp knife is mission-critical for anyone when hunting or fishing (cleaning fish with a dull knife is no fun!), pitching a tent or building a shelter, starting a fire if you lose your lighter/matches/flint, or first aid (you need a good sharp knife to make a splint). You'll also want to make sure you have a sharp camp axe or felling axe so that you can chop down small trees or clear away brush when you want to pitch your tent.
Why should I pay a professional to sharpen my knives?
There are many reasons. First, a professional understands that different types of knives have different bevels or edges to the blade, and knows how to precisely recreate that bevel. Many Japanese knives have a 15-degree bevel, while many American and European made knives have a 20-degree angle. But the degree of blade bevel can even vary between knives in the same brand or product line, so it's important to be precise when sharpening to be true to the prescribed bevel. It's probably become clean now why an all-in-one knife sharpener should probably be the last resort. 
Another reason to hire a pro to sharpen your knives is that good knives can be costly and you want them to last a lifetime. A pro will make sure that no more metal than necessary is removed during the sharpening process. Also, some non-professional sharpening techniques can cause a blade to overheat, destroying the metal's temper, which can make it vulnerable to breakage. A true pro knows how to keep the metal cool while sharpening while getting the best result. Knife sharpening can seem simple, but if done improperly, the blade can be irreparably damaged.
How often should I be sharpening my knives?
This depends greatly on frequency of use, but it is recommended you have your knives professionally sharpened every 3-4 months for low to average use. When you begin getting your knives professionally sharpened regularly, you'll also start to get a much better sense of when they start to dull. It's possible that knives you think are still fairly sharp are only 20-30% as sharp as they could be.
Also, keep in mind that with everyday use, knives pick up chips and small damage that needs to be worked out through regular sharpening. A damaged or chipped knife can harbor bacteria and germs, so regular sharpening by a professional is really important.
How does knife sharpening actually work?
First, let's talk about what makes a blade sharp. The edge of every blade has microscopic notches or serrations (unlike the large serrations found on serrated blades). You can think of every blade as a type of micro-saw. As a knife is used for cutting and you hone the knife with a steel, the microscopic serrations get smoothed until they are completely worn away. This is the process of the blade becoming "flat." After this happens, the blade is no longer able to cut well and is considered dull and must be sharpened.
Sharpening means restoring the microscopic serrations on the blade, as much as possible, to the original, factory edge.
What about axes? Should they be professionally sharpened too?
Yes! While there are many do-it-yourself sharpening guides and videos online, sharpening an axe correctly at home can be difficult, time consuming, and dangerous. You can also risk removing too much metal and dramatically shortening the life of your axe. That's why Timber Knives offers precision axe sharpening at reasonable prices, so you can afford to keep all your axes in tip top shape.
What areas does Timber Knives serve with knife sharpening and axe sharpening services?
Well that answer depends on how far you are willing to drive to get to our store in Heber City, Utah! We've had people bring us their knives and axes from as far away as Colorado, Wyoming, and Idaho for sharpening. At this time, Timber Knives can only sharpen knives brought in locally to our store in Heber City. Timber Knives serves people in Park City, Kimball Junction, Midway, Kamas, Wanship, Coalville, and Oakley. We're the "go-to" knife sharpening service for all of Summit and Wasatch counties. Timber Knives is just a short drive from the Salt Lake Valley via I-80, and minutes from Provo, Orem, and Lehi via Highway 189.
And if you think about it, Ogden, Logan, and Price are just a short road trip away. Pack a lunch and make a day of it. 
And how many knife sharpening services are going to invite the good townspeople of places like Snyderville, Morgan, and Hoytville to bring in their blades in for sharpening. We are! 
Professional knife sharpening at Timber Knives in Heber City, Utah. Give us a call or send us a message with any questions.